Working from Home? Read our Home Office Setup Guide
With such a demand for home office fitouts due to the COVID-19 restrictions, our expert team have put together these helpful hints to keep you safe and comfortable.
How to choose a home office desk?


Your office desk should ideally let you type on a keyboard with your arms and hands roughly parallel to the floor, your feet flat on the floor, and your legs fitting comfortably under the desk when sitting. The kitchen table might seem a good choice in the short-term, but it's the hub of the house and if you are looking to be productive (and somewhat professional), a desk setup in a bedroom or quieter part of the house is probably a wise choice.
If you have a desk but it doesn't support your posture, you can invest in a keyboard tray, get a footrest, put the desk on risers, or simply try adjusting your chair's seat height. (Scroll down to see a posture chart).

Adjustable-height desks allow you to switch between sitting and standing mode and we'll discuss those next.
To stand or sit while working?

A study published in the European Journal of Preventive Cardiology suggested switching standing for sitting for six hours per day could help people lose 2.5kg over the course of a year. And in 2015, researchers from the University of Chester recommended office workers use sit-stand desks to ensure they are on their feet for a minimum of two hours a day, with the goal of eventually increasing that to four hours.

Experts believe that a combination of sitting, standing and moving is essential to creating a healthy working environment.

"Standing desks aren't the silver bullet, they're not the solution to everything, however they can be part of the solution for many people," said David Hall, occupational health chair at the Australian Physiotherapy Association.

"The challenge is to try and allow people to have a natural flow between sitting, standing and moving. What we know is you shouldn't sit for longer than 30 minutes at a time, but similarly different types of issues start to kick in after standing for a long period."

The key message is that utilising office desks that can quickly change heights will help you maintain a healthy balance between sitting and standing while working at home.
Make sure you invest in an Ergonomic Chair

After your desk, your chair is the most important piece of furniture in your office. Our top tip is that you really do get what you pay for! Like an investment in a good mattress, the same is true for the chair you sit in all day. It needs to have great back support and allow you to change the height to prevent neck and eye strain. 

Here's what to look for in as a home office chair:


Lumbar support: The curve in the back of the chair should support your lower spine, following the natural curve of your lower back.
Seat depth: Chairs that fit your body will allow you to sit comfortably with your lower back against the lumbar support while also leaving an inch or two between the back of your knees and the seat. 
Chair height: You should be able to adjust the height of the chair so your feet are flat on the floor or on a foot rest.
Arm rests: Armrests should be at the proper height so your shoulders aren't hunched and you can keep your arms parallel to the floor.
Material: Some people want a mesh chair because they tend to get hot in other types of chairs. 
Monitor Placement

Keep your monitor or laptop screen around 50-60 centimetres in front of you. If the monitor is too far away, you might be forced to lean forward and no longer have back support. Too near and your eyes have to work harder to focus. You should be able to read all text comfortably while maintaining proper posture. If text is too small, zoom in.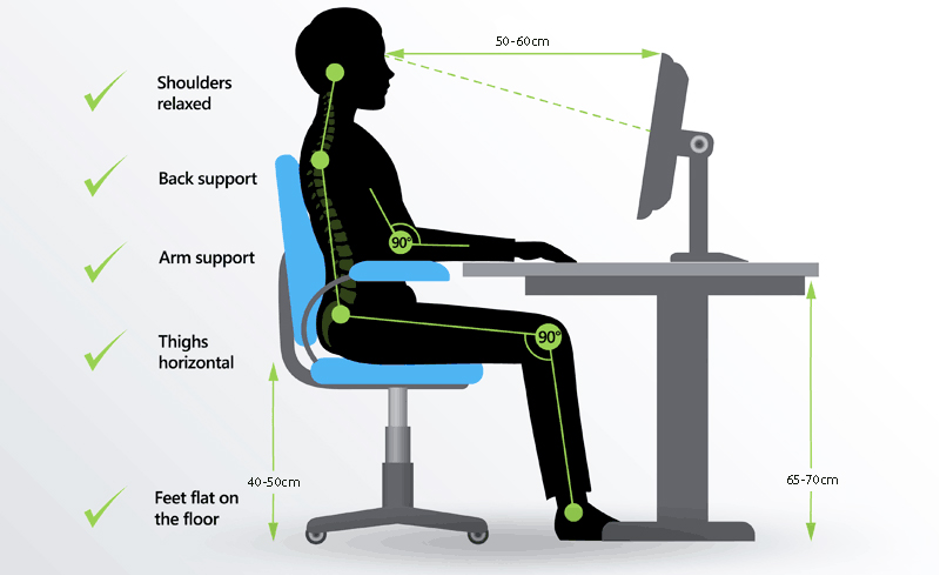 Make sure the top line of the screen is at or below your eye level. If the monitor is too high, you'll be forced to strain your head, neck, and back. At the same time, your downward viewing angle to see the entire screen shouldn't be greater than 60 degrees.

Don't tilt the monitor more than 10 to 20 degrees. More than that and objects on the screen might be difficult to read.

Place the monitor perpendicular to windows. This will help avoid eye-straining glare.
Delivery & Installation

It's business as usual at Equip Office Furniture and our team are working hard to get all our home office clients up and running with minimal disruption or contact.
View our website to order home office furniture online (Free Delivery in SYD Metro) or simply give us a call on  02 9818 4200